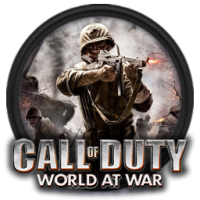 About This Club
Call of Duty: World at War is a 2008 first-person shooter video game developed by Treyarch and published by Activision.
---
What's new in this club

Rob you are starting to frighten me

Thank you for another good week!

The next rotation for DM3 is now running. Small map rotation map mp_agx_castle map mp_crate_yard map mp_get_lost_3 map mp_kauten map mp_little_town map mp_pmcod map mp_yuko Medium map rotation map mp_78druglord map mp_agx_depot1 map mp_akushima map mp_ax_neuville map mp_bergsnow map mp_rust map mp_broadcast map mp_crossroads map mp_dawnville map mp_docks map mp_fatherland map mp_frenchvillage map mp_jungle map mp_makin map mp_mohdv2 map mp_nvabase map mp_railyard map mp_ratskitchen map mp_scarecrow map mp_poolshark map mp_v2 map mp_xfire_bay Large map rotation map mp_1078brecourt map mp_82ab_erdol map mp_airfield map mp_ax_simmerath map mp_bgaden map mp_camp_merc map mp_ctrain map mp_dogville map mp_gb_atami map mp_hurtgen map mp_hurtsum map mp_landing map mp_montargis map mp_overcong map mp_renan_bridge map mp_sfss_castle map mp_snrtrondheim map mp_stalingrad map mp_trainstation map mp_vm_jungle map mp_xi_shima

New rotation maps are map mp_78druglord map mp_assault map mp_blood_island map mp_corregidor map mp_desolate map mp_farmhouse2 map mp_hunt map mp_little_town map mp_makin_day map mp_myths_farm map mp_nuenen map mp_pds map mp_rhinevalleygits map mp_snr_kassel map mp_suburban map mp_warehouse map mp_warsaw map mp_xi_jordan5

Excellent, thanks AthenA!

Here's rats kitchen (sorry to "tease" you @Biotech lol Athena stop flirting, Essie is already angry with me as it is

i am calling my congress man/ woman little people maps are beeing discriminated !!! it's a disgrace !!! i think i'll start a little people map protest mars ( if only the place wasn't so biiiiiiiiiig ) but thanks for the maps Skuz

Hi Jared, they are the maps where the rooms, so the furnitures and everything around, are huge so that everybody seem to be very short (I guess the "little people" thing). The room "scale" is bigger... but someone who speaks better English than me could explain it better ! We call them the "Rat" maps because they're called "Rats" kitchen, etc. Here's rats kitchen (sorry to "tease" you @Biotech lol) :

Thanks Skuz! What are lil people and rat maps? They sound exciting when they do come around.

Poor bio, but thank you skuzzzzz

Thanks Skuz! Sorry to make you work on Sunday.