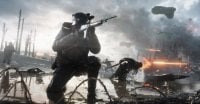 About This Club
Battlefield 2042 features huge maps, dynamic weather and three multiplayer modes. The new Battlefield is being touted as "the most ambitious" entry in the series yet, built in the latest Frostbite engine, with 128-player maps available on the latest consoles and PC, while a host of new weapons, vehicles and gadgets are also being introduced - and yes, rumours of a robot dog were true.
---
What's new in this club

Thanks Woody i had the same issue.

Hi, today there is a new update for BF 2042. I load it and would play, but i can´t look left or right with my mouse. Here you can fix it (found on reddit) That's how I fixed it here - Close the game. - Open the ...\Documents\Battlefield 2042\settings\PROFSAVE_profile file - Delete all lines starting with GstKeyBinding.infantry (should be the first 200 or something) - Start the game Here are the link to the original post. I fix my game with this! Greetings Woody

I give the game a 6 out 10.

its ok, full of bugs but still fun to play.

it is pretty good more arcade style game but it is not a btf game like btf 3 or 4

whatever... I like it well enough lol

read it on IGN yesterday it was 89th ,then saw it 16th https://www.fraghero.com/battlefield-2042-is-in-top-10-worst-reviewed-games-on-steam/

Start playing this game to day

It took 40 hours to download then wouldn't start. I checked the downloaded files with Repair on Origin, updated my Radeon GPU driver, switched off the cross-format play then restarted the PC. All OK now and even won my first 128-player Conquest game! I do wonder how we choose specific servers rather than random games?

I'm downloading the game now from Steam

ok found this,uhmmm drive hovercraft up the outside of a building?? lol

So anyone done a downloaded a stream of the actual in game play? got to wait another 5 days,but from what i have heard as norm few bugs in the game normal for Batllefield

I am looking forward to this game!

Preloaded......... I keep waiting for the email saying it is time to PLAY ...

nearly time less than a day for me

Pre-load starts today 6pm British time

https://youtu.be/RbKJ_S6kqr8 8 days!

Good news. Dice are rethinking the specialist classes

Tune in on October 14th to discover Battlefield™ Hazard Zone, an all-new high-stakes multiplayer experience.