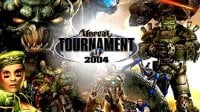 About This Club
Unreal Tournament 2004 is a first-person shooter representing a fast-paced extreme sport of the future. The game, designed primarily for multiplayer gameplay, offers multiple ways of movement including double-jumping, dodge-jumping, wall-dodging and shield-jumping.
---
What's new in this club

i had to uninstall,,i neede space on hard drive,,but getting another one next week!!

Finally got it done. I forgot how much fun it was playing the game. I am enjoying playing the bots for now. Maybe we can get some people to join back up an play.

UT99.. Love the wheelchair guy https://app.photobucket.com/u/Amy_Lee1984/p/86ce0154-9455-46c0-a939-d660fd5f58c4

Loco?? Looks fun.. I love your Simpsons maps.. Play them daily..

it was so much fun,,,I thought I would have issues remembering,,but nope!!!lololol I will post another one for next weekend in the day time

I showed up a little late I guess it was around 9 pm here and the server was empty. Sucks to I really wanted to play with some real humans on there : )

BlackRose and I won a TDM match We need to play more often & more maps...

yes this was short notice mostly for north americans,,will do another one in middle of the day!!

Am on at different times day and night - would be nice to shoot something other than bots - maybe even a @BUDMAN

Bad time!!! needs to be a week end thing with all the different time zones...

I will be there every time I check the server no one is there. I enjoy low gravity dodging. Brings back the ole days

All right I don't know if I can survive staying up that late -2am here-, but I'll try - would love to participate of course! Thank you Rose!

Friday evening march 12 8pm est Let get the server going!!

LOL I ran these skins for a while on 1 of my CSS servers. They were made to be run client side but can be pushed and run server side.

Not that hard to do. to push you skins in UT 1)find a skin 2)install it on to your unreal, then select it,exit.and !!copy!! those file to your unreal system folder 3) Download botmanger from : http://jafo.mienadres.nl 4)import your skin/model 5)export your player record class, now you have your xxxMod.u file 7)compress all of your texture,karma data,xxxMod.u,system for that file except!! your xxx.upl 8)go into your ut2004.ini or what every ini file 9)under your [Engine.GameEngine] type: ServerPackages=xxxx.utx ServerPackages=xxxx.ukx ServerPackages=xxxxMod.u *and if the you wont to put skins on your server bot go here: http://www.unrealadmin.org/forums/sh...ht=custom+bots Here is what the servers .ini file looks like after adding a bunch of mods. [Engine.GameEngine] ServerPackages=UT2Vote42 ServerPackages=smithskins.utx ServerPackages=smith.ukx ServerPackages=SmithMod CacheSizeMegs=32 UseSound=True VoIPAllowVAD=False ServerPackages=AgentSmith.u ServerActors=IpDrv.MasterServerUplink ServerActors=UWeb.WebServer ServerPackages=Core ServerPackages=Engine ServerPackages=Fire ServerPackages=Editor ServerPackages=IpDrv ServerPackages=UWeb ServerPackages=GamePlay ServerPackages=UnrealGame ServerPackages=XEffects ServerPackages=XPickups ServerPackages=XGame ServerPackages=XWeapons ServerPackages=XInterface ServerPackages=Vehicles ServerPackages=TeamSymbols_UT2003 ServerPackages=TeamSymbols_UT2004 ServerPackages=BonusPack ServerPackages=SkaarjPack_rc ServerPackages=SkaarjPack ServerPackages=UTClassic ServerPackages=UT2k4Assault ServerPackages=Onslaught ServerPackages=GUI2K4 ServerPackages=UT2k4AssaultFull ServerPackages=OnslaughtFull ServerPackages=xVoting UseStaticMeshBatching=True ColorHighDetailMeshes=False ColorSlowCollisionMeshes=False ColorNoCollisionMeshes=False ColorWorldTextures=False ColorPlayerAndWeaponTextures=False ColorInterfaceTextures=False MainMenuClass=GUI2K4.UT2K4MainMenu ConnectingMenuClass=GUI2K4.UT2K4ServerLoading DisconnectMenuClass=GUI2K4.UT2K4DisconnectOptionPa ge LoadingClass=GUI2K4.UT2K4SP_LadderLoading SinglePlayerMenuClass=GUI2K4.UT2K4SP_Main ServerPackages=Jailbreak ServerPackages=JBAddonAvenger ServerPackages=JBAddonCelebration ServerPackages=JBAddonLlama ServerPackages=JBAddonProtection ServerPackages=JBAddonTeleport ServerPackages=JBScreen ServerPackages=JBToolbox ServerPackages=JBVehicles ServerPackages=W_Mutators ServerPackages=XRedeemer ServerPackages=Cartman_Voicepak

just make 1 that looks like @RobMc it will encourage people to shoot faster!

Thought it was supposed to be pretty difficult to push custom skins onto existing client side models from servers.

lolol,,I could do some XI ones

Hello Loco, Can we please get some custom skins to liven up the game?? Any would be fun.. Voicepack would be fun as well.. sample http://planetunreal.gamespy.com/View79bb.html?view=UT2004Files.Detail&id=195 Thank you

I pop in there a lot and never see anyone playing. I forgot how fun low gravity and dbl jump was. I started making some maps again as well, should have my first one done soon. I will post a few shots to see if there interested in adding it to the server By the way I am Zappy's brother if anyone knows him.