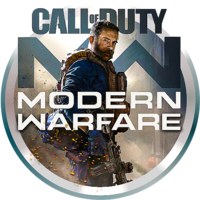 About This Club
Call of Duty: Modern Warfare is an upcoming first-person shooter video game that is being developed by Infinity Ward and published by Activision. It will serve as the sixteenth overall installment in the Call of Duty series as well as a "soft reboot" of the Modern Warfare sub-series.[1][2][3] It is scheduled to be released on October 25, 2019, for Microsoft Windows, PlayStation 4, and Xbox One. The game is set to take place in a realistic and modern setting. For the first time in the franchise's history, Call of Duty: Modern Warfare will support cross-platform multiplayer. Activision has also confirmed that the franchise's traditional season pass had been scrapped, enabling the company to distribute free post-launch content to all players
---
What's new in this club

k got some people added and accepted

i sent you a request ages ago and you still didnt accept it

Activision : AthenA#7621068 Battle.net : AthenA#14501

just got ne hd and installed windows 10 seems to fix blackops just played 5 maps with out crashing.

My son and I just got cold war. Not too bad, but nothing has yet to really pull me from cod4. Battlenet: DeviousGlow#1947 Activision: DeviousGlow#3812333

MW19 crashes on me sometimes, I don't play it often enough to care about figuring it out though. Ive only had Cold War crash on me a few times. But, I had youtube playing music and had my card overclocked a little over what the oc program recommended.

i got it but constantly crashes on windows 7. and i tried every thing from scan repair to -d11 fix to make game above normal priority. if lucky i get 1 or 2 maps in some time it crashes on start up just so random. and yes i got latest driver for 1070 which is like just 5 days ago lol

I've started playing Cold War late Monday, Tuesday night.. my days off for now. I'm normally drinking while i play, add me. Game name; The_Real_Siko, Battle Tag; Sikon#1320

I had 2 wins on day one with @Roxy! and my best friends son Jake. Played a few since then without the same success. It reminds me of a mini warzone but maybe even more intense. Positioning at the end is everything.

It's the new wazone map Rebirth Island, the screen shot is the bit where your taken away, from the wazone after winning in the helicopter ..................

First win on the new warzone map ............................................................

When you get the Stoner up to max level and throw the thermal scope on it... it's basically like cheating.

This is a great game so far, with some really nice visual affects. Really enjoying this one thus far, see ya on the battle field.

Just started playing it. But first impression is great game

Spend some time leveling up some weapons. Zombies is a good place to level up weapons.

I just downloaded it last night will be around this week hope to catch up with you guys soon.

Okay, I'm looking to setup a regular weekly session with three other people. Preferably Tuesday evenings or Sunday mornings/afternoons. I'd like to either play Zombies or any MP game (preferably Combined Arms Assault). I can play the other MP games without a squad, but CAA and Zombies would be a lot more fun with a squad. I want to attempt to just use the in-game chat features and not set up a separate TS or anything like that.

Cold War is, IMHO, a very "XI" game - it's a fast, beat-em-down kind of game. I find it is fun to play both in run and gun mode and in sneak-around-sniping mode (especially the combined arms maps, but they need more of them). Hardcore feels like COD2 to me speed-wise. If it had dedicated servers I would be begging COD4 players to move on. I am averaging 1.5 E/D and I'm an old slow guy. Might be a game for slow old people.

I may be around on Tuesday evenings. hit me up

I don't want to admit how many hours I've played lol. I'm usually on in the evenings.