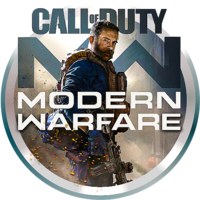 About This Club
Call of Duty: Modern Warfare is an upcoming first-person shooter video game that is being developed by Infinity Ward and published by Activision. It will serve as the sixteenth overall installment in the Call of Duty series as well as a "soft reboot" of the Modern Warfare sub-series.[1][2][3] It is scheduled to be released on October 25, 2019, for Microsoft Windows, PlayStation 4, and Xbox One. The game is set to take place in a realistic and modern setting. For the first time in the franchise's history, Call of Duty: Modern Warfare will support cross-platform multiplayer. Activision has also confirmed that the franchise's traditional season pass had been scrapped, enabling the company to distribute free post-launch content to all players
---
What's new in this club

price

joined the club

Cold War is, IMHO, a very "XI" game - it's a fast, beat-em-down kind of game. I find it is fun to play both in run and gun mode and in sneak-around-sniping mode (especially the combined arms maps, but they need more of them). Hardcore feels like COD2 to me speed-wise. If it had dedicated servers I would be begging COD4 players to move on. I am averaging 1.5 E/D and I'm an old slow guy. Might be a game for slow old people.

ldoz

joined the club

I may be around on Tuesday evenings. hit me up

I don't want to admit how many hours I've played lol. I'm usually on in the evenings.

I am now! I see you on, occasionally, but you are never playing...

See what I can see. Tuesday evenings sounds good.

Who is playing Cold War? Who would like to try and get a regular session together? I would like to see if three or more like-minded people would be interested in teaming up on Tuesday evenings specifically, but open to other times, for some Combined Arms Mosh Pit action. Any takers?

Are you in our Regiment? I see usually 4 or 5 of us most of the time I login.

they are in teamspeak sometimes

@Lunkster, can you shoot me a regiment invite as well please? Battle.net gamer tag is Jurrien74#1996. My in-game name is Hawk_XI Thanks!

I play for hours daily, and have never seen any XI anywhere. I have gotten confirmation of being responsible for 7 cheater bans, so far. Three came last week alone!! Two in one day!

Cobranss

joined the club

@Lunkster can you send me an invite? Battle.net ID: Bogleg#1565

I play this game quite a bit. I run into cheaters now and then. The most common is the wall hack. Most of them aren't very good at hiding it. I will tell you this a large portion of people playing this are teenagers with young eyes and reflexes. We are talking a pool of millions of players. So the skill level you will see there is much higher on the average than anything you currently see on our FT servers. There is quite a learning curb initially as well. If you ever want to play there are more than a few from our clan playing and can help you out some with the initial learning curb. They also do skill base match making after you have played awhile which helps some.

Yep typical for free games to have LOTS of cheaters. LOL Anyone remember how bad Combat Arms was for cheaters? What's stopping them from just having there cell number changed?

CoD and cheaters ? I am shocked !

So, I just assume that the super great gamers who slaughter me so easily in game are ... bots made by the game as fillers while more and more folks buy the game, load the game, start playing the game, so that from the get go the game is fully happening. I have been dealing with this situation, as I learn what the heck is happening, what to do, where to go, how to kill/stay alive and get those bounties filled, balloon up my money, etc, by avoiding the most populated areas and be able to focus better on learning the game vs dying quickly, which really sucks... Now as for this game, I do like it, it is fun running around grabbing all sorts of goodies and cash, I like the maps, they are well laid out and fun terrain, BUT... will I play it 8 hours a day? Nope, after about 30 to 60 minutes, I am ready to stop with this game... so, for me it is not a "keeper". 2 cents (just a "nower" for a little while)

Roxy!

joined the club

OK... I LIKE IT! So far it's not the type of game I'd play for hours upon hours, but it is an improvement to the regular game, and for that it's two thumbs up. So that being said, I'm going back in!

robdevil

joined the club

They have weapon guides when you get higher up for multiplayer and warzone based off your play style. https://www.pcgamer.com/best-mp7-loadout-warzone-setup-attachment-class/ that is my preferred side for weapon attachments.

LordRaiden

joined the club

I am going in! (I will give this game a go, and as I learn things or have comments or just a thumbs up or thumbs down vote, I will post.)

rumble just turned into snipers map....ruined it..

Your game tag will be in the top right corner of your load in screen, the one that appears after you've chosen which game you're playing

Thanks for the info. How do I look for the tag in the game. I have been playing Multiplayer and War zone. I am still very new but I like the game very much.

crimson

joined the club

would anyone wanna do a 3vs3 against me and my friends.