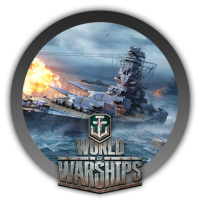 About This Club
World of Warships is a free-to-play naval action-themed massively multiplayer online game.
---
What's new in this club

I would love to but unfortunately I can play in the morning. sorry

Looking for folks to do Clan Battles. Would be in the evenings from 8-11ish. Need 7 players I believe. We have a ton of members in this group but in reality only about 4-6 of us are active in this game. Who is up for it? *Must have a tier 10 ship OR have a tier 8 which will unlock you 3 thirty day rental tier 10's that are good only for Clan Battles.

Was a good time tonight with a somewhat impromptu brawling of the Clans. Shout out to those that played and perished with me. Dogg, Crazygirl, Dallas. Honorable mention goes to GsWho. He would have liked to play with us but didn't have a Tier 9. He had to play solo. But Who hasn't? You hear GsWho here in this clip of me teamed up with Crazy and Dogg. The last 4 minutes of the game here in these two 30 second clips. I'm in the Tier 9 French cruiser Saint-Louis. Caught the Drake overextending and trying to back up. Five citadel wrecking ball. https://outplayed.tv/media/N3

I wish I had seen this long back when you posted this. I rarely come here but am VERY active in the game. We never have enough to make a roster on during the timeframe of clan battles which is VERY unfortunate. Would love to do that and earn Steel. We did play 3v3 Clan Brawls tonight which was a lot of fun and we won most of our games which is a bonus: Look for me in the game: Ra1sin

I thought I was the only that had that issue when I played that game.

You didn't say that the Royal Navy was featured... That's pretty invisible these days! Oh apart from the poxy little patrol vessels... See what they have done to the name Enterprise?! https://www.royalnavy.mod.uk/our-organisation/the-fighting-arms/surface-fleet/survey/echo-class/hms-enterprise

Somewhere on the bow of the Iowa is Draco and Bmoney. This was the Anchors Away Tour (stop #9) @ USS Iowa. If you live near one of the ships, I would check it out! It's a fun day spent with other players. They have goodies they give out and there is a scavenger hunt for premium ships! Bmoney found the Massachusetts and I won the Admiral Graf Spee, along with a super container that contained 100 flags. Plus a large portion (if not all of it) of the ticket price goes back to the ship. That's the main purpose is to help the museums maintain the boats. Check out the Warships website forums for loc

That game still have invisible ships sinking other ships ?

I'm hoping people actually see this.... For those that dont know me I used to be one of the old EU BF4 players but for the past couple of years have been heavily into playing WOWS Now I dont know if we have a clan on the NA server? But I am looking into getting a competitive group of people to play things like Clan Battles and even enter the comp's like King of the Sea Etc Etc.... I noticed that activity within these forums for ships has been dead for like a year..... Can someone/admin etc get hold of me so we can hopefully try and set something up

do they have an xi server? or you have to add the person like maelstrom.

Midway trailer for all you World of Warships players out there:

Yes, been there..... Never invited for Clan Wars Although I am #2 in the Clan for supplying Oil... #2 in overall DMG, #2 in overall win rate.... We need to organize Clan wars if anyone is serious about it.

There are usually 3-5 of us in the Teamspeak channel almost every night after 10 eastern. Come on in and join us.

I have always been "in" on this.... Never invited

Halloween mission. 1291 secondaries.

I should be able to play on Weds and Thurs night.

Here is the remainder of the Turkey Event schedule. Im not sure if they posted them public or not, but Ill share my inside information. Thursday November 22nd: 12:00 UTC (4 AM PST/ 7 AM EST) - 16:00 UTC (8 AM PST / 11 AM EST) Select Tiers: T5 and T7 18:00 UTC (10 AM PST / 1 PM EST) - 23:00 UTC (3 PM PST / 6PM EST) Select Tiers: T6 and T8 02:00 UTC (6 PM PST/9 PM EST) to 6:00 UTC (10 PM PST /1 AM EST) Select Tiers: T5 and T7 Friday November 23rd: 12:00 UTC (4 AM PST/ 7 AM EST) - 16:00 UTC (8 AM PST / 11 AM EST) Select Tiers: T6 and T8 18:00 UT

cloaks have been replaced with "kick me" notes on our backs. I just need everyone to say when they are available. Keep in mind, we need to have 7 on to make this happen.

Did they remove the cloak of invisibility on the ships yet ??

Im in and vote you admiral...set it up sir!!

I'd be game. Just not sure what night right now. I'll have to look at my schedule later.

Hey everyone! New clan Battles season is fast approaching. Nov. 28 to Jan. 20 Wed, Thurs, Sat, and Sun 3:55-7:55 Pacific time. It would be nice to set a scheduled time, for any/all to meet up. Maybe , on Wednesday evening at say 6. That would give us just under 2 hours to squeeze in a few games. WHOS IN? LETS SINK SOME BOATS!

What's everyone been up to here? Besides getting Rocked in Clan Wars earlier this week?

One More from the King of Stealth.... The Kamikaze.