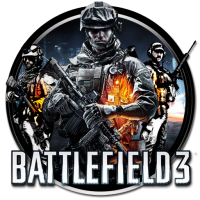 About This Club
Battlefield 3 is a first-person shooter video game developed by EA DICE and published by Electronic Arts
---
What's new in this club

cool have to look in to this ..BF3 was great

BF 3 is alive In the trailer embedded above, you can see what will be possible in Battlefield 3 with the framework called "Venice Unleashed" (VU). Not only can you use it to create your own maps and vehicles, but also modify existing ones or even create completely new game modes. The video shows, among other things, a replica of the Counter-Strike map de_dust2, as well as a bicycle and a modified buggy. But that doesn't stop there: The entire gameplay can also be rebuilt. This is shown, for example, by a top-down shooter in which you shoot waves of AI-controlled opponents. Dedicated servers and more: At the same time, with VU you can also host private dedicated servers with a higher tick rate than the official ones. You can also customize other simple gameplay elements such as the suppression fire. https://veniceunleashed.net Hope that works too ..... greetings from the darkness Woody

Devildog4355

joined the club

BUDMAN

joined the club

Personalfoul

joined the club

JAH

joined the club

It's year later is anyone playing now?

Crazyhorse

joined the club

Sgt_Hindsight

joined the club

dadda2

joined the club

DREAD69

joined the club

KillMeElmo

joined the club

Jackie Tequila

joined the club

7Toes

joined the club

Kamikazekoe96

joined the club

GSWho

joined the club

Gardevil

joined the club

Skuld

joined the club

ucjohn

joined the club

mmgonline>XI<

joined the club

IJHicks

joined the club

FunkyChickn

joined the club

robdevil

joined the club

Texas

joined the club

GeForce

joined the club

Majbasil

joined the club

Shireco

joined the club

tsw 8.5

joined the club

24oz

joined the club

Sf.Petru

joined the club

RIP>XI<

joined the club

BattlewolF

joined the club

Barron3000

joined the club

Red Baron

joined the club

Woody_Ger

joined the club

Cobranss

joined the club

X-RayXI

joined the club

Merlin007

joined the club

Sonovabich

joined the club

Sitting-Duc

joined the club

..and after five minutes he stops playing furiously. hahahahaha

if you see me in team sp stop in i'll play bf3 or bf4 with you ..

Just wondering if anyone still plays battlefield 3

MrFitt Go On Ya Good ting....

Fair comment Barron, never saw your original post, only saw this when others posted on it yesterday, makes me wonder now why something was done about it, might have saved the server.

Ah here guys come on I made that I made that post in January and yes it is BF3 but its completely separate from BF3 as it doesn't use Battlelog and such. I just posted it for people to try out the mod if they were interested. It had nothing to do with XI hosting a server with the BF3 mod as its for private hosting only (From your own PC).

Haha we just got rid of the BF3 server, Ricko is 100% correct many people said they would play BF3 and we are still waiting for most of them to show their faces, it was the same group in there everyday trying to make this server work and then people who hardly played it started coming and changing maps and game modes so that's what finished me playing it, not because a "new" game came out, i really think you are taking the piss with this post to be honest Barron.

bf3 server we wanted bf3 we got players wanted to play they said and guess what again not then something new comes out guess what?

Gotta get me all the dlc...this looks and sounds amazing....

cool! going to check this out for sure!

For anyone looking to install and play the mod you must first register on this website : https://sso.emulatornexus.com/ From there you create your account and make sure to open up your email to recieve the confirmation email. Once that is done it should say that you have successfully registered. You then should get the option to link your Origin account to Emulator Nexus.*** This needs to be done or else your game wont work *** Once thats done you need to download the Venice Unleashed Installer here : http://veniceunleashed.net/downloads (Dont download the zip just download the installer) Either Google Chrome/Firefox will disable the download once its downloaded. You need to make an exception for the file to open it. (It's not a virus) From there you should be able to run the installer and once its completed you should see a Venice Unleashed Icon on your Desktop and your good to go . (Use same username and password as you did to sign up) ***Word of advice (Temporially disable Anti Virus to open the Venice Unleashed) ***Also you may need to make an exception rule in your Firewall to run the game

i was checked. cool but crashed everytime

I might have to check it out. I am still waiting for origin to respond to a ticket. I had premium and one of the dlc wont download. Says i have to purchase it. Of course i sent it a month ago. LOL

I just played 2 rounds of Wake Island on conquest there and it just looks amazing with the color corrections and tweakers. Its defintely worth a look!

Going to check that one out!

Came across this earlier today and it looks like BF3 is going to make a huge comeback with this. Its basically a bunch of developers that have worked on the orginal BF3 engine and done some major tweaks to it. The Best thing about it is that its totally customisable now with full modding support. High Tick rate servers of between 60hz-120hz and its going to be one of the only battlefield games now that you can privately host yourself. Its annoying blue tint that was in the game is completly removed and theres options to turn off supression effects in the game also. http://veniceunleashed.net Heres some of the features of the mod: Spectator Mode The spectator mode allows you to join a server as a spectator instead of as a player. You can roam around the map freely or follow a player in 1st or 3rd person, which makes detecting cheaters and filming cinematics much easier than it was before. Read more about the spectator mode here. Private Server Hosting As opposed to the original game, we don't limit hosting to only a few providers. All users will be allowed to privately host dedicated servers. You can find out more about hosting in this post. High Frequency Servers Experience smooth and responsive gameplay in high frequency servers, with simulation rates ranging from 60Hz to 120Hz and update rates from 30Hz to 60Hz, which results in up to 3 times less latency compared to vanilla BF3. Read more here. Advanced Configuration Options Things like the blue tint and the the blinding sun were something that annoyed players since the release of BF3. Now server hosters can finally turn those, and countless other options, off (or leave them enabled, it's all up to you!). Mods and User-Generated Content A major part of Venice Unleashed will be user-generated content in the form of mods. You will be able to write custom gamemodes and game logic in the form of script extensions, as well as create entirely new content with Rime, our custom Frostbite editor. Read more here and here. Multiple Soldiers Last but not least, we won't restrict you to only one soldier like in the original game. You can create multiple soldiers. Plus, resetting your stats will no longer be a premium-exclusive feature. Don't like your soldier anymore? Simply delete it! Even though you will need to own a valid license for BF3, Venice Unleashed itself functions completely without any connection to EA - there's no risk of getting banned. The project is supported by an ever-growing community that is eager to contribute as much as possible. For this reason, we also have a community forum where you can exchange views on project-related topics, request help or suggest your ideas! Heres a quick video showing some of the gameplay:

Lol Jay, yes i know exactly what you mean m8, this fella is a few slates short of a full roof lol.